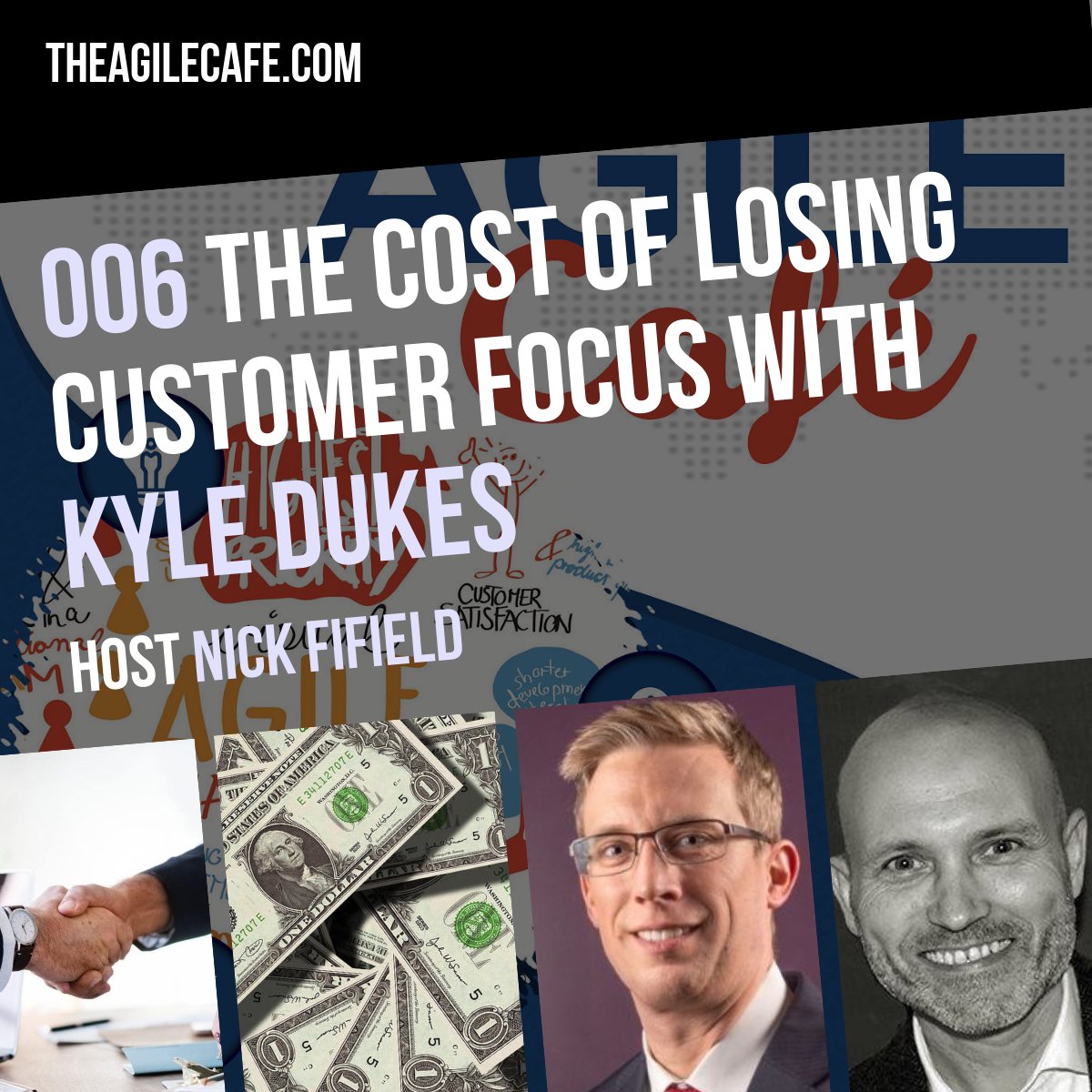 The Cost Of Losing Customer Focus
Hi, this is Nick Fifield with episode 6. Today I'm chatting with Kyle Dukes on the Cost Of Losing Customer Focus.
INTRODUCTION
Background and challenges
What compelled you to become an Agile coach & trainer?
Tell me about the time you discovered Agile.
Moving to an Agile NICHE, from general PM to ScrumMaster, then Agile Coach & Speaker.
**Agile is CULTURE**
The top challenges faced implementing Agile techniques.
TOPIC TAKE-AWAY POINTS
Why should you be passionate about customer focus?
Steve Jobs quote
Walmart - all about the customer.
Structuring your organisation to have 100% customer focus
Ways to get to know your customers better - personas, surveys, keyword research, web analytics, net-promotor score.
Description of the net-promotor score and its powerful benefits
What happens when you ignore the customer - loose top talent…
Examples of companies who lost sight of the customer…
Advice to CEOs
AMAZON - a company focused on the customer.
Utilise data and analytics to get close to your customers and help to make decisions
Developing a great customer experience
Adapting quickly to customer data
Online vs Brick & Mortar companies
Every company is a software company…
QUICKFIRE ROUND
1. A piece of advice for a new Scrum Master / Agile Coach
Ans: Add value and examples. Capital One talk.
2. What's your favourite book or internet resource and why?
Ans: Book - Training from the Back of the Room.  https://amzn.to/2JljR8H *
Explains how people learn, get people engaged, learn fast by doing.
3. What's the best way to build a career in the Agile Lean space?
Ans: Many different paths. Continuous self-improvement and add value, plus examples.
4. Share your favourite practical tip and why?
Ans:  Become an expert in the team's Agile tools and think ahead.
5. Name one way of convincing others to the benefits of Agile Lean techniques.
Ans: Eat your own dog food…
6. What's do you see as the next evolution of Agile or the general software delivery approach?
Ans: Agility moving out of IT into other business areas e.g. HR. Why and how….
You can contact Kyle at kyle.dukes@agileable.com
MY REQUEST TO YOU…
Please take the time to share the podcast with your friends and colleagues along with a recommendation.
Note: Being transparent, the links marked with an asterisk (*) are Amazon affiliate links. If you purchase the book via the link you will not pay any more than normal, but it will earn the podcast a few pennies which will contribute towards the media hosting costs. Thanks.